This post may contain affiliate links. If you buy thru these links, we may earn a commission at no additional cost to you.
---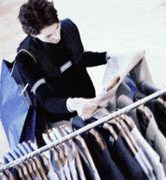 I recently wrote about secondhand clothes becoming the height of fashion sense.
But unless I am looking for particular retro items, or hoping for a discount on high end couture, I find that thrift store clothing isn't necessarily a bargain.
I made this discovery some years ago when searching for Tommy Hilfiger jeans for my son, as I found that this was the brand that fit him best.
Since new Tommy Hilfiger jeans cost about $55, I began purchasing them from the thrift store. I could easily get a pair for $10-$12. This meant that I could dress my son for an entire season for only $100 including shirts and if I was lucky, shoes.
One day, however, I stumbled into a Ross store. Ross stores are discount brand name stores. They purchase clothes that generally do not sell the season before and sell them at discount prices.
I was astounded to find that the very same jeans I was purchasing at the thrift store was also at Ross. They were even available for the same price or less… and they were brand new! I had hit the jackpot.
While I still go to the thrift store on occasion when my kids are looking for a retro item for a play — and to purchase books and secondhand furniture — we now buy clothing at discount stores such as Ross, Marshalls, and Burlington Coat Factory.
I realize that the thrift stores give a portion of their proceeds to charities, but I feel like if the thrift stores really want my business, they would check the competition and sell clothing items for less than retail stores sell them.
RELATED:
I have been a certified tightwad striving for financial freedom since I became pregnant with my first child — and I decided to find a way to stay home with him full-time. I enjoy sharing my personal experiences in my journey back to financial health and planning for a future — which will include sending 2 kids to college and early retirement.