This post may contain affiliate links. If you buy thru these links, we may earn a commission at no additional cost to you.
---
I am an appliance salesperson's worst nightmare. I will relentlessly haggle the price on a refrigerator, washer, dryer, or other appliance until I get the price I want.
This is not very hard to do. Salespeople at appliance stores tend to give in on the price of appliances because they expect to make money on the additional service warranty.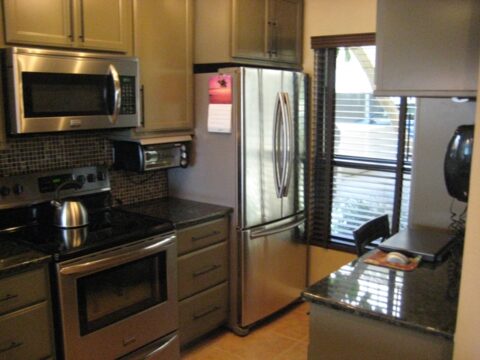 If you want to see a really upset salesperson, refuse the warranty after getting an excellent price on the appliance!
Why I Don't Purchase Service Warranties
First of all, products are automatically covered for the first year by the manufacturer — sometimes longer.  Therefore, if I felt I needed a warranty, I would wait until that time was almost over, and then accept the offer of an extended warranty that you tend to get in the mail.
Secondly, an appliance warranty is not necessary if you have a home service plan.
With home service plans you can insure your appliances for repair or replacement even when they're past their prime.
A home service plan will protect you if your hot water heater suddenly gives out, or your dryer stops drying.
The cost of such a plan is about $400 a year at most, and carries small deductibles ranging between $35 to $100.  If you carried a warranty on each of your home appliances, you might find that a home service plan warranty would be cheaper.
Regardless of whether you choose individual warranties, or one service plan warranty for your home, be sure to read the fine print before you sign any policy.
More About Extended Warranties
I have been a certified tightwad striving for financial freedom since I became pregnant with my first child — and I decided to find a way to stay home with him full-time. I enjoy sharing my personal experiences in my journey back to financial health and planning for a future — which will include sending 2 kids to college and early retirement.