This post may contain affiliate links. If you buy thru these links, we may earn a commission at no additional cost to you.
---
When I turned 50, I didn't realize how many senior discounts were available to me — even at 50!
If you're approaching 50, then you might not be aware of all of the senior discounts at 50 that you're entitled to at restaurants, hotels, and other businesses.
So I've compiled a list for you — as well as my experience taking advantage of the many AARP discounts that are available once you turn 50.
While you may be reluctant to divulge your age all the time, hopefully you'll change your mind once you find out how much money you're leaving on the table by keeping it a secret.
There are so many restaurants, hotels, movie theaters, entertainment centers, and other businesses offer generous discounts to people over a certain age. Most places give senior discounts to anyone over 60, but more and more establishments are beginning to let people save once they turn 50 — or 55.
Below, I'm only including senior discounts that are available at age 50 (…for those of us who are 50 going on 40, ha ha).
Always Ask For A Senior Discount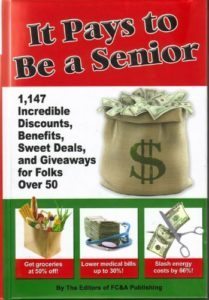 Some businesses advertise their senior discounts on menus or price boards. However, if you don't see one listed and you qualify for discounts in other similar establishments — just ask. The worst thing they can do is say no.
Even if they don't have an official senior discount policy, they might shave some money off your bill simply because you asked!
Remember when you used to have to show your I.D. to get into movies or purchase certain beverages Well, you might need to do that again to get your senior discount. It may have been a hassle when you were younger, but now you can laugh about it because you obviously don't look old enough to be called a senior — or they wouldn't ask, right?
Watch For Senior Day Specials
Pay attention to special senior discount day ads in your area.
Many supermarkets, restaurants, and department stores have specific days when seniors get anywhere from 10% to 50% off.
You might need to sign up for the store's own reward card to get your discount, but it usually only requires filling out a short form.
Businesses Offering Senior Discounts At 50
There are so many chains that offer senior discounts — either regionally or nationally. Exactly how much of a discount they offer changes quite frequently though. On rare occasion, it's only 5%. Usually, the senior discount is between 10% and 20%.
No matter where you are, you should always ask if they have a senior discount — because chances are pretty good that they do these days.
And be sure to ask for the senior discount before you pay for something. Otherwise, they'll have to ring up your order twice, to correct the non-discounted price they entered first.
Here are some of the businesses that offer generous senior discounts at 50:
1-800-PetMeds
Alamo Rent-A-Car
Avis Car Rentals
Avon
Banana Republic
Bealls
Budget Rental Cars
Busch Gardens
CJ Banks
DirecTV
Dollar Rent-A-Car
Gatti's Pizza
Gray Line Tours
Holland America Cruise Line
Kmart
Krispy Kreme
Luby's
McDonald's
Pathmark
Peebles
Pet Smart
Rite Aid Pharmacy
Sea World
Steak 'n Shake
SunTrust Bank
TMobile
Trailways Transportation
Travelodge
Tupperware
USAFlorist
Valvoline Instant Oil Change
Wachovia Bank
White Castle
AARP Discounts At 50 Are The Best
If you're a member of AARP (I am), then you're entitled to even more discounts!
The price for an AARP membership is minimal ($16), and you'll recoup your membership fee quickly if you take advantage of their many benefits.
I believe there's a slight discount if you sign up for several years in advance. I signed up for 5 years.
There are literally hundreds of AARP discounts available. These are the ones that we happen to use most frequently:
Best Western (10%)
Bonefish Grill (15%)
Bubba Gump Shrimp Co. (10%)
Carrabba's (15%)
Cirque du Soleil (20%)
Comfort Inn (10%)
Days Inn (10%)
Denny's (15%)
Econo Lodge (10%)
La Quinta (10%)
Motel 6 (10%)
Outback (15%)
Quality Inn (10%)
Ramada (10%)
Regal Cinemas (25%)
Super 8 (10%)
I had to talk hubby into signing up for AARP at the age of 50 — because he didn't want to be considered a senior.
But we travel a lot, and the 10% to 15% hotel discounts alone are worth the price of membership for us. (We always ask for the lowest rate first, and then just so happen to mention that we have an AARP card — for an even lower rate.) That and the 15% off every time we eat at Denny's when we're traveling!
TIP: Instead of carrying the AARP card with us when we travel, I took a picture of my AARP membership card and I just show that every time to get the AARP discounts.
Don't let pride stand in the way of saving money. If you're a senior, accept your discount and save every penny that's available. You've worked hard all your life, so you've earned it!
Besides, since 50 is the new 40, that means you'll have plenty of years to rake in the savings!
More Freebies & Senior Discounts At 50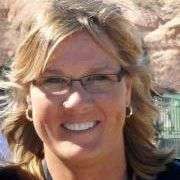 Always on the lookout for a good bargain, I consider myself a frugal person — but not cheap. And not afraid to spend money on the things that matter. I like to share good deals with others when I find them. One of my favorite ways to save money is to reuse items in ways other than their intended purpose — so I write a lot about outside-the-box ideas that most people wouldn't think of! When I'm not saving money or looking for good deals, you'll find me at the corner of Good News & Fun Times as publisher of The Fun Times Guide (32 fun & helpful websites).