This post may contain affiliate links. If you buy thru these links, we may earn a commission at no additional cost to you.
---
What Is Black Friday?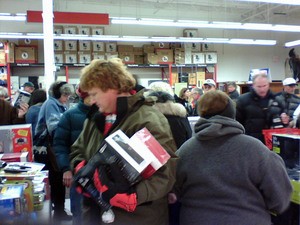 Black Friday is one of the biggest shopping days of the year. It's always the day after Thanksgiving.
How did Black Friday get its name?
For years, the day after Thanksgiving has been the day that retailers traditional go from being "in the red" (in debt) to being "in the black" (making a profit). Hence the name: Black Friday!
Black Friday officially marks the start of the holiday shopping season, as there's only 4 weeks left to shop until Christmas.
What Are Black Friday Sales Like?
The Friday after Thanksgiving sales usually include the most unique items that you'll find this particular year and the lowest prices on many of the most popular everyday items as well.
Black Friday doorbuster prices are typically very hard to beat — at any time of year.
The challenge and allure to Black Friday shopping is the fact that there are only limited quantities available at these low, low prices. It's not unusual that a store would only have a dozen or so items available at that one-time-only Black Friday price.
So there's obviously an adrenaline rush that comes with being one of the lucky ones who was able to score a deal on an item you wanted. It's kind of similar to "winning" a bid on eBay and the satisfaction you feel for being the lucky "winner" — when you know so many other people also wanted that item. Only the deals are usually much sweeter at Black Friday sales.
On Black Friday, bargain shoppers can score tremendous deals by keeping their eye on the biggest sales that can be had:
only on this one day
only for certain times during that day
only on select items
and only at select stores
My Experience With Black Friday Shopping
There are Black Friday junkies who get up early each and every year to take advantage of all the post-Thanksgiving Day specials.
Then there are Black Friday newbies who are eager to see what all the hype is about for the very first time.
I'm somewhere in between. I've been participating in Black Friday sales since 2005. I'm serious about my Black Friday shopping — in terms of hunting down the very best deals that we most need (or want). Then on the morning of Black Friday, I'm on a mission to buy just those items. I try hard not to let Black Friday sales get the best of me by buying a bunch of things I don't need. (That's just what the retailers want, you know.)
So that's why I compiled a list of the best tips for Black Friday shopping. And I use that list each year when I'm preparing for my Black Friday shopping trip.
I think the best part about Black Friday shopping is the fact that you can find out ahead of time exactly what's going to be on sale at all of your favorite stores!
Here's how…
Find The Best Deals Ahead Of Time
To view details about each of the items featured this year for Black Friday, go here:
Those happen to be my personal favorites (in that order). Plus, they are the most popular Black Friday sites according to a number of other factors as well.
GottaDeal also happens to have the largest Black Friday message boards online. So if you want others' opinions on the best deals or the specific products on sale, there's no better way to get an answer to your question fast. (You have to register first to view the forums.)
No matter which Black Friday site(s) you choose to follow, sign up to be notified of all the latest store ads as they become available!
Did You Know?…
Amazon has Black Friday specials, too! However, they don't release their low low low prices until midnight on the Monday before Thanksgiving. (So keep checking that link!)
More than 4 in 10 (44 percent) say they'll wait for holiday sales to buy other larger or big-ticket items for themselves or their household. Half (50 percent) of respondents say they'll shop for themselves while shopping for others.  

Source
But Amazon isn't the only retailer offering Black Friday specials online.  Most companies offer their own Black Friday specials on their corporate websites. Just pick your favorite store, then check out their website. I bet you'll find a few Black Friday deals there!
What To Look For In Black Friday Store Ads
When the Sunday before Thanksgiving rolls around, be sure to grab a newspaper. Warning: Get one early in the morning. Otherwise, you may have to drive all over town in search of a newspaper, because Black Friday shoppers have already bought them all! I learned this firsthand.
Keep in mind that many Black Friday specials are only offered in the store between certain hours. For example, some are considered "early bird" specials available only to the first few who walk through the door, while others are staggered throughout the day. By making sale prices only available during certain times, the stores are able to get shoppers to return to their stores even after the biggest and best items sold out earlier in the morning.
If you truly want to be among the first to receive a great deal, then your best bet is to get there early! Stores often offer deeper discounts and last-minute specials on Black Friday that they didn't announce ahead of time.
Be aware that some stores also offer free gift certificates to the first X-number of people in the store the day after Thanksgiving. So do keep your eye out for those little "surprises" on Black Friday as well.
Aren't There Pre-Black Friday Sales?
For awhile, some stores (like Walmart) tried to put an end to pre-Thanksgiving day store ads appearing on websites.  But that was just a short-sighted approach to deal with the frustration that they were not in control of when their customers saw their store ads.
Today, it's hard to deny that retailers actually like all the attention. Heck, ANY way the word gets out about your sales is a great way to boost holiday sales each year!
It's clear that Black Friday sales are so successful for retailers that they've actually come to rely on them each year. Their year-over-year profits would not be the same without Black Friday sales in the mix.
In fact, many retailers have even started advertising their own Black Friday sales weeks ahead of time — in an attempt to scoop all the Black Friday websites, and boost sales even higher.
And this year is the first time stores started offering full Black Friday sales and discounts before the official Black Friday day! That's right, Black Friday is now reserved for those who are drawn to the "challenge" of being one of a select few to actually score the best deals… in stores… on the day after Thanksgiving.
If you just want good deals in general, then pre-Black Friday sales may be just what you're looking for!
Did You Know?…
Apparently, on Black Friday people typically eat a lot of pizza! According to Yahoo:
Every year, on the Friday after Thanksgiving, we see a rise in searches for Round Table, Pizza Hut, and Cici's Pizza, among many others. Some people tire of turkey too quickly … We know many of you think our annual ode to post-turkey pizza is some kind of cheeky advertorial, paid in full by one of the big pizza chains. Ultimately, this isn't about commerce, but rather another facet of the human condition: predictable eating habits. 

Source
Next Up:  Cyber Monday!
Cyber Monday is always the Monday after Thanksgiving.
It's the day when everyone switches to online shopping (instead of shopping in stores for holiday bargains) and major retailers have their biggest sales of the year online — via their corporate websites.
See why online shopping peaks the Monday after Thanksgiving and how to prepare for Cyber Monday shopping.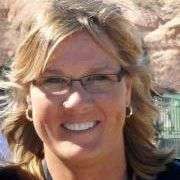 Always on the lookout for a good bargain, I consider myself a frugal person — but not cheap. And not afraid to spend money on the things that matter. I like to share good deals with others when I find them. One of my favorite ways to save money is to reuse items in ways other than their intended purpose — so I write a lot about outside-the-box ideas that most people wouldn't think of! When I'm not saving money or looking for good deals, you'll find me at the corner of Good News & Fun Times as publisher of The Fun Times Guide (32 fun & helpful websites).