This post may contain affiliate links. If you buy thru these links, we may earn a commission at no additional cost to you.
---
We've individually reviewed other wholesale clubs (like Costco, BJs, Direct Buy, and Uniway) — so it only makes sense to include some detailed info about Sam's Wholesale Club as well.
Sam's Club is owned and operated by Walmart and was founded in 1983.  Sams Wholesale Club catered primarily to small business owners until 2007 — when it decided to open up the stores to individual customers.
What It's Like Inside Sams Wholesale Club
The stores are truly warehouses — with items sold directly from pallets and steel cages.  Products are varied and include just about everything that a typical household would need.
At Sam's, they sell jewelry, designer goods, sunglasses, optical products, flowers, and baked goods in addition to dairy, meat, household cleaners, tires, and more!
A popular feature inside most Sams Wholesale Club stores (which other warehouse clubs have attempted to copy) is the food sampling stands — where customers can taste food items before purchasing them in the store.
A trip around Sam's club via forklift
Sams Club Is For Members Only
A membership is required to purchase almost everything that Sam's Wholesale Club sells.
The exceptions are:
Cafe foods
Prescription medicines
Alcohol
Optical services
Gas (unless you want the larger discount)
Anyone can take advantage of the same low prices that Sam's Club members get on those particular items.
TIP: It's not difficult to get a 1-day pass for Sam's Club to see what the store is like firsthand without investing in a membership.
A Sams Wholesale Club membership allows you to purchase a multitude of items at lower rates.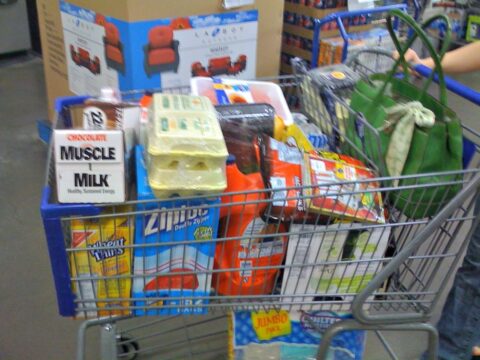 In addition to the items mentioned above, you'll also find unique items at discounted prices in these departments: appliances, electronics, furniture, jewelry, office products, outdoor and patio products.
With your Sam's membership, you also get free or discounted access to other services including: auctions, auto buying, cell phone plans, optical, rental cars, and much more.
Sams Club Membership Levels
Individual membership ($45) – includes a discount on prescription eyeglasses, free flat tire repairs (regardless of where your tires were purchased, in addition to special savings above and beyond everyday members-only prices each month.
Business membership ($45) – includes the benefits of the Individual membership, plus early shopping hours (starting at 7AM Monday through Saturday) and the ability to issue membership cards to your employees.
Business Plus membership ($100) – includes the benefits of the Business membership, plus $10 credit for every $500 spent, an extra year of coverage when you buy an Extra Protection Service Plan, and extra discounts on select prescription drugs.
Costco vs Sam's Club
If you're trying to decide between a Sam's Club membership and a Costco membership, I'd say Sam's Club is a good bet — due to the fact that they have a good variety of products.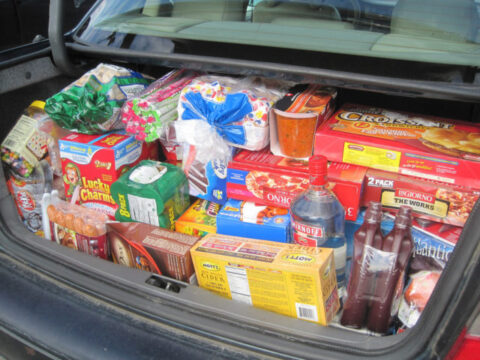 Sure, Costco prices are slightly cheaper on many of the items that they have in common, but Sam's typically has 2 or 3 brands per item — rather than just one. (That's probably because they have the buying power of Walmart behind them.)
Sam's Club is also known for selling high-end luxury items.  For example, you can find Waterford, Swarovski, Coach, and Omega — to name just a few. On the other hand, Costco only sells luxury items like this for very short periods of time from a kiosk within the store.
Like Costco, Sam's Wholesale Club has a great return policy — including electronics!
Return policies are generous, but Sam's Club is superior for electronics. At Sam's, you have 6 months to return a computer — you can return anything else anytime. At Costco, only you have 90 days to return most electronics, but you can return other purchases anytime. Source
While Sam's Wholesale Club has many more store locations than Costco, they don't do as high a volume.  In fact, they decided to close all Canada locations in 2009.  Walmart Supercenters do much better in Canada, so they opened more Walmart Supercenters in Canada instead.
For more about the differences between Costco and Sam's Club, check these out:
Here's a fun little piece of information: Secret Price Codes Unveiled For Major Stores — information is included for Sam's Club and Costco, among others.
I have been a certified tightwad striving for financial freedom since I became pregnant with my first child — and I decided to find a way to stay home with him full-time. I enjoy sharing my personal experiences in my journey back to financial health and planning for a future — which will include sending 2 kids to college and early retirement.