This post may contain affiliate links. If you buy thru these links, we may earn a commission at no additional cost to you.
---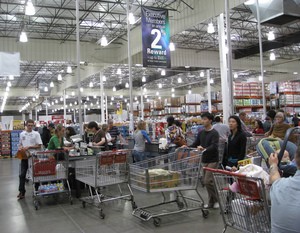 Costco is a wholesale membership club where you can purchase food in bulk and also take advantage of group price rates on every day items like cameras, televisions, computers, clothing, and more.
There's a lot of talk these days about Costco's employee benefits and even celebrity sightings at Costco (more on that in a minute).
First, here's a little about why I shop at Costco, plus tips for shopping at Costco (formerly known as Price Club)…

How Costco Got Started
In 1976 Price Club opened its first location in a converted airplane hangar in San Diego CA. It originally served only small businesses but quickly discovered that it could get better prices with a bigger audience.
The first Costco warehouse opened in Seattle WA and the 2 companies merged in 1993 under the name PriceCosto.  The company's name is now Costco Wholesale.  It has 57 million members and made 1.3 billion in revenue in 2008.
Today, Costco is known for its gas stations that provide discount prices as well as for the household goods members can get at discount prices.  In addition to bulk foods, meat, fresh fruit and vegetables, dairy, clothing, and tires that most warehouse clubs provide, you can also purchase beds, furniture, and other assorted furnishings thanks to Costco's buying power.
Costco Membership Levels
Business membership is available to anyone who holds a business license. It costs $50 a year.  This includes a free spouse card. Additional cards for members of the same business are $40.
Gold star membership is for people who do not qualify for a business membership.  The membership is $50 per year for up to 2 cards per household.
Executive membership costs $50 in addition to the business membership. (Total cost $100.) Executive members receive 2% reward on most purchases, additional discounts on things such as check printing, auto loans, real estate services and travel. There is a limit of one executive member per household or business.
Costco's Benefits & Perks
I like how Costco provides a lot of services to its members right in one place.
For example, in addition to household goods and bulk foods, Costco offers business services such as 401K plans, business phones, credit card processing, checks, savings accounts, payroll services, shipping, and website development
Costco also offers consumer services as well, including an automobile program, house/auto/boat loans, event tickets, online investing, and roadside assistance.  You can also get auto, home, and health insurance at group rates.
Costco also has an optical company.
Costco's online store allows members to purchase items online and guarantees a lower online price. You can also renew your membership online and take advantage of other online services such as pharmacy, photo developing, and more. 

Costco Is A Great Place To Work
While Costco provides great bargains for members, it also has a reputation for being a great employer.
Costco is known for providing excellent benefits to employees. Salaried employees are eligible for benefits after the first month of hire. Full-time hourly employees can receive benefits after 90 days, 180 days for part-timers … A 401(k) plan is available and Costco matches employee contributions 50 cents on the dollar for the first $1,000 each year to a maximum company match of $500 a year. In addition, once an employee meets the eligibility requirements, the company adds an additional amount to each employee's account every year, which is based on the employee's years of service and eligible earnings. According to The NY Times, the average pay of Costco workers is $17 an hour. Source
My favorite perk is the food counter where you can order hot dogs, ice cream, pizza, and other great lunch or dinner choices for next to nothing.  I've been known to go there just for their fast food!
Celebrities Love Costco
Costco is not just popular with business people and shoppers like you and me who are looking for a deal.  It's not unusual to hear celebs talking about their Costco shopping experiences on talk shows and in the news.
Here are some recent celebrity Costco sightings:
Jimmy Kimmel also filmed a segment for his TV show at Costco. (Which surprises me, as I once tried to take a photo of a piano keyboard I was thinking of buying and nearly got my camera confiscated for taking a photo in the store. Apparently, what goes on in Costco is top secret.)
More About Shopping At Costco
I have been a certified tightwad striving for financial freedom since I became pregnant with my first child — and I decided to find a way to stay home with him full-time. I enjoy sharing my personal experiences in my journey back to financial health and planning for a future — which will include sending 2 kids to college and early retirement.