This post may contain affiliate links. If you buy thru these links, we may earn a commission at no additional cost to you.
---
Oh how I love making homemade gifts! Some gifts can be expensive to buy but cheap to make.
You can drain your bank account when it comes to Christmas shopping or other gift-giving times. Are you tired of shopping online and want to save money?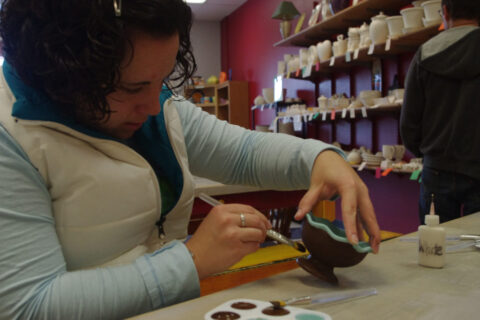 Gifts don't have to be costly, especially when you make or finish them yourself!
One of my favorite homemade gifts started with me buying an old cigar box and refinishing it for a keepsake box that I recently gifted to my parents — they use it as an eyeglass and safe-keeping box.
You might remember I love furniture recycling as well! Making homemade gifts serves 3 purposes for me:
I get in touch with my creative side and it's cathartic for me.
I always have gifts on hand if I'm invited to a dinner or seeing a friend.
I save money when buying gifts because mostly what I gift is homemade.
Here are some ideas for cheap, simple presents you can make or finish off at home.
#1 – Make Decorative Crockery
Mugs
, plates
and other crockery
can be bought cheaply in plain white form. Wholesale batches, direct from the factory or suppliers, are usually an especially good value.
With little extra expense, you can paint and decorate your cups, saucers, mugs, plates and dishes as you wish.
You'll need oil-based paint pens
, acrylic paints
with accompanying brushes
, or possibly other paint types, depending on the substance of your items.
TIP: Find A Paint Your Own Pottery Studio Near You
Many times I'll shop at Goodwill or other thrift and consignment shops for pieces of pottery that are already painted and I will strip them or paint over the designs with chalk paint and customize them.
#2 – Create Fancy Plant Pots
If you have some spare plant pots, why not put them to use? After cleaning them out thoroughly, you can paint them in tones of your choice, decorating them afterwards with a fine brush or pen.
Acrylic paints are recommended for most kinds of flower pots
. Acrylic and chalk paints are staples in my craft room since they are so versatile and I use them to create everything I make.
Your finished creations will look great indoors or out, as recipients will discover, and can serve as knick-knack storage or actual planters.
#3 – Create Personalized Signs On All Types Of Wood
This is by far my niche and my favorite hobby right now — and my friends and family love my creations. Living in Lancaster County Pennsylvania I have access to a lot of really cool pieces of barnwood.
You don't have to live here though or use barnwood to make great gifts. Any type of wood will work.
I also buy paintings and word sayings on wood (even when I don't like them at all!) and I paint over them with messages that are meaningful to me.
I collect a lot of ideas along the way when shopping and then I make my own versions at home.
#4 – Crochet Some Knitwear
Are you a keen knitter? If so, get knitting for your friends and family.
If, on the other hand, you're new to knitting, go for simple items to start with, such as scarves
and socks
, using online instructions to help you.
If you enjoy the activity, you might like to join a knitting group, where you'll probably pick up all the tips you need from your new knitting pals.
#5 – Burn CDs Of Your Favorite Music
Are you a Mozart in the making, or a secret jazz artist? Or do you and your family like to sing in harmony around the piano on a winter's night?
There are many closet musicians in the world who never get seen or heard, so if you're one of them, break the mold by recording your melodies on disc for music-loving friends.
Your mom and dad will cherish a copy, too, no doubt.
Last Minute DIY Christmas Gifts | Easy & Affordable
Once you start making your gifts, you won't want to stop — nor will your lucky recipients. You'll probably think up many more ideas as you go, and your homemade gifts will soon be well known among your friends and relatives.
Many times I enjoy some craft pieces I've made by displaying them and just "shop" at home for that perfect gift when a gift-giving occasion comes along — or when I just want to give a "just because" gift.
More Homemade Gift Resources For You
In addition to the links I've included above, here are some additional resources to help you save money this holiday:
I'm a health nut, a frugal mom, a dog lover, a DIYer, and a gadget girl. Personally, as a post-divorce, working single mom on a budget I have a lot of experiences that I enjoy sharing so others can learn from the things I wish I knew earlier! Professionally, I've worked full-time in a variety of marketing, sales, and editing jobs. You can always find me at the corner of Good News & Fun Times as Managing Editor at The Fun Times Guide (32 fun & helpful websites).