---
In writing about our personal experiences, we sometimes mention products & services that we use or recommend. This page may contain affiliate links for which we receive a commission.
You can save a lot of time and frustration if you move into a new home on days that most people typically aren't planning their moves.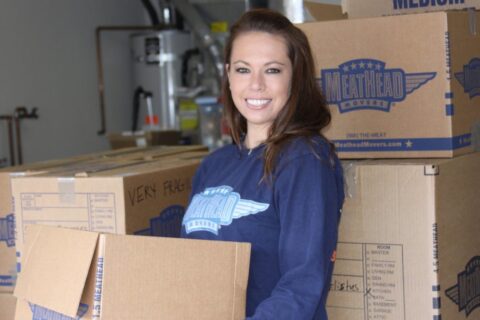 Doing so means that you will have the most resources available to you in term of packing supplies
, movers, and moving vehicles.
Plus, you won't feel rushed since you'll be one of the few people moving their belongings from one house to another on that particular day. The day will be yours and everyone associated with your move will be able to focus their attention completely on you!
Here's what you need to know…
Best Day, Week & Month To Move
To make the moving process easier on you (and less expensive), consider these tips when choosing your actual moving day:
The best days of the week to move are during the middle week — from Monday to Thursday — because most people plan their moves for the weekend. This is especially true with do-it-yourself movers who rent U-Haul and Ryder Trucks.
Monday and Thursday are good days to move. Most people are working and there are fewer reservations meaning that companies lower the price to try to entice people to move on the days they have less business. If you can move on one of these days rather than the weekend you'll save yourself some money … The best days to move are Tuesday and Wednesday. The middle of the week is the best time to move as it's the days that moving companies have the lowest amount of reservations. This also means that you'll have the best chance of getting a reservation and at the lowest price. While it's not the most convenient day it is the best day. Source
The worst days of the week to move are on weekends (Fridays, Saturdays and Sundays). The reason: most people tend to move on weekends when they are not working. That means movers already have plenty of reservations on those days, so you'll have a difficult time reserving a moving truck and moving supplies. Even if you make the reservation ahead of time you'll be paying more than you would on other days.
The best day of the month to move is mid month (on or around the 15th). There are typically no major holidays during that time. Fewer people moving means better prices and more services & supplies available to you.
Summer time is the busiest time of the year for movers. In addition, the beginning and end of each month are traditionally busier than mid-month, regardless of the season. Source
The worst day of the month to move is on the 1st of the month. That's typically when everyone else is moving. Most people try to make the most of their money by living out their lease until the last day. However, if you move a week early, you will save money by getting a better deal on your moving supplies and a moving truck.
If you have the flexibility, try not to move during the summer months or at the end of the month. Most movers charge higher rates for moves made during these time periods. Try to move during the middle of the month. Source
The best month of the year to move varies depending upon your goals. First of all, take into consideration the dates mentioned above (therefore avoiding May 15th through September 15th). Beyond that, if you want to get a good price on a new home, then you will want to move in the fall or winter. If you need to sell your own home first, you should plan to move in the spring when you have a better chance at selling your home.
Half of all moves occur during one-third of the year – between the beginning of May and Labor Day. Source
The best time of the day to move is at the crack of dawn. Moving always take much longer than anticipated, so the earlier you start, the more energy you will have and the sooner you will be finished.
In Summary…
Ideally, you should plan your moving day for a Tuesday or Wednesday, if at all possible.
The reason: most people plan their moves on weekends. By going against the grain, you'll have a smoother move.
The actual time of the year and other seasonal changes will ultimately dictate which week of the month you should pick for your moving day. For example, don't plan your move during a major holiday, a school event (like semester break or graduation), or any other time of the year when people typically don't work.
The reason: people often use days that they're not working to move into new homes. You don't want your moving day to be at the same time as theirs. Doing so would compromise the number of moving resources available to you and likely increase the price you will ultimately pay for your move.
If you can, plan to move during the winter when fewer people are moving.
The reason: you will save the most money and have the most resources available to you. However, to move when it's cold outside may not be the most pleasant experience for you, personally.
photo credit: Meathead Movers
Always on the lookout for a good bargain, I consider myself a frugal person — but not cheap. And not afraid to spend money on the things that matter. I like to share good deals with others when I find them. One of my favorite ways to save money is to reuse items in ways other than their intended purpose — so I write a lot about outside-the-box ideas that most people wouldn't think of! When I'm not saving money or looking for good deals, you'll find me at the corner of Good News & Fun Times as publisher of The Fun Times Guide (32 fun & helpful websites).