This post may contain affiliate links. If you buy thru these links, we may earn a commission at no additional cost to you.
---
Today's post is from the "Don't ask me why I know this" file.
Truth is, Jim and I were considering making some personalized koozies for our company — you know, can koozies with The Fun Times Guide logo on them.
That sent me on a hunt to find everything I could about can coolers — including all the different types of koozies that exist and how to order personalized koozies with a logo or text on them. Psst… did you know that you can even order custom koozies with a photo on them? (A fun idea for wedding koozies and wedding favors!)
Perhaps someone else can use this info.
So here we go — every kind of can koozie, bottle koozie, and water bottle koozie imaginable. Plus some of the best places to order personalized koozies…

DID YOU KNOW?…
Cans never stay cool as long as bottles do.
Your typical can koozie maintains your beverage at 40 degrees or below for 35 minutes (or 3 times longer than a can without a koozie).
My Quest To Find The Perfect Koozie
What started as a personal collection of can and bottle koozies (actually, souvenirs from various beachy locations and bars that I've visited) has quickly turned into "the world's largest collection of useless information about can koozies!"
I'm not joking. The moment I discovered there was a "can condom" koozie for your beverage, I decided that I wanted to know about all the different clever and unique shapes and types of koozies.
I'm a researcher by nature, so this was a joy for me.
Now, armed with the following information, I'm on a personal mission to complete my can koozie collection by acquiring (at least) one of each different style.
Turns out, I may be at this for awhile — because there are literally dozens of different designs that I never even knew existed!
And now, for your koozie-drinking pleasure…
Before you order personalized koozies, you'll want to take notes and benefit from what I've learned firsthand.
TIP: Most of these can koozies can be customized with your own business logo or fun saying.
Classic Can Koozies & Bottle Koozies
Traditional beverage koozies that we've all grown to know and love: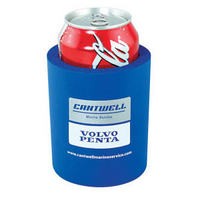 MY TAKE: This is your standard, "old-fashioned" koozie with hard foam inside and out. You can find these for a dime a dozen in most places. (Well, okay… maybe more like 3 for $10, but you get the idea). They serve their purpose well as a koozie. Over time, the foam starts to "fray" or tear a bit. They're usually not all that good-looking — since they're just a plain colored koozie with a picture, logo, or saying on them. Simple and to the point, they do work well.
Plastic lined koozies with a smooth insulated liner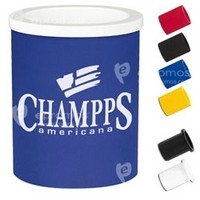 MY TAKE: Personally, I'm not crazy about these — because the cans tend to "sweat" inside that liner and it fills up with a small amount of water. As a result, every time you take a drink, you get a trickle of water down your chin. However, the interior liner can be removed for easy cleaning.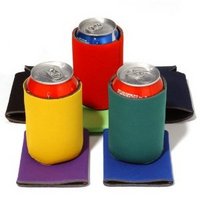 MY TAKE: These are probably my least favorite, simply because their hi-density open cell foam (similar to scuba gear) doesn't have much insulating power. They're very thin, and pliable — so they fold up quite nicely. This makes them handy to keep around and tiny to pack & take with you. (They even store quite nicely inside your purse, glove compartment, or shirt pocket.) Their claim to fame is their ability to eliminate sweat from cold drinks. They do help to eliminate water rings (though water can still seep out the bottom) and sweating, but they mostly keep your hands off the chilled can/bottle more than anything else. (Personalize your own collapsible koozies, and here too.)
Bottle wetsuits (beer koozie with a zipper)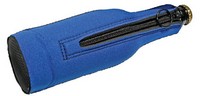 MY TAKE: Neoprene has come a long way baby! With these bottle koozies, neoprene wraps the entire bottle and zips up. This one serves its purpose by keeping your bottled beverage in a safe, enclosed environment. So even out by the pool, if your bottle should tip, fall, or be used as a projectile for some reason, you'll not have glass shards everywhere. It looks sleek and feels great under your fingertips — all the way from its base to its neck. I like the grippy bottom which means "no slide" on flat surfaces and no "sweat rings". And the handy-dandy zipper ring cannot be overlooked — I personally use it to carry around my beer on my finger. (Personalize your own bottle wetsuits.)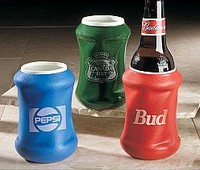 MY TAKE: I'm not crazy about this type of can koozie — primarily because of the fact that it's so hard to get a can in and out of these double-walled contraptions. "Wait, what's that loud, sucking sound?… Oh, it's Lynnette trying to pull her soda can out of the koozie again!" (Bottles are easier to get out of these insulated squeezable koozie holders — because bottles are a tad thinner and don't stick to the sides like the cans do.) However, I do like the 2-in-one purpose of these squeezable koozies. As I see it, you get a beverage holder and a stress-reliever! The soft, pliable foam is similar to those stress-balls you've seen. It's effectiveness as a beverage holder is good — but not the best in my opinion. (See plastic lined koozies review above.)
Fun & Clever Koozies
These are some of the more uniquely styled koozies (i.e. obscure) can koozies and bottle koozies I've come across:
MY TAKE: Stainless steel koozies are among the classiest — though they may become scratched over time. These would make a great gift. And they can be personalized with art, your logo, or text engraving as well. I especially like the piston-shaped can holders for motorheads!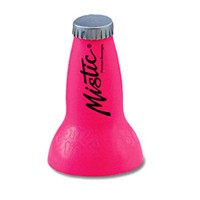 MY TAKE: I have no idea what this one does, and I haven't seen this one in person yet. You can bet it's on the top of my wish list to add to my extensive koozie collection though! "Bottle-It stops the sloshing of liquid from the can while in the car, boat, golf cart, and more. Convenient plastic cap included."
MY TAKE: An insulated beverage holder just for your golf cart. To me, it seems like you could affix it most anywhere — like your Jeep, your bicycle, or even your lawn chair! A great can koozie and holder all in one.
MY TAKE: A hot cup sleeve for serious coffee (and latte) drinkers! For use with hot drinks, this one keeps your hands from scalding. I don't use these, but I know lots of coffee drinkers who do. Of course you can order custom coffee sleeves as well.
MY TAKE: We have 2 of these. They're red. Verizon gave them out at Nashville events this summer. It's a fun koozie, and noticeable too — but not my favorite koozie to use on a daily basis. The downsides of these bottle koozies are similar to those mentioned for the collapsible koozies above.
MY TAKE: We have 2 of these in bright yellow. They're really unique, and they're usually the center of attention at parties. But they're bulky and they don't hold your drink very securely. They're fun to have around though — especially on boats (yes they float!) and at beach parties. The best part is they'll hold both cans and bottles. Here are some life vest koozies in the more traditional can cooler material.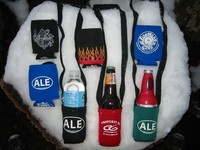 MY TAKE: This is a can or bottle koozie that you hang around your neck — so your drink is always within reach. It's either the lazy man's way to drink beer, or it's ingenious — I haven't decided yet. One thing's for sure, it's great to use during activities which require both hands (like canoeing). Here's another type of beer on a rope holder and here's an all-leather version of a hands-free beer holder.
MY TAKE: I really like the leather! Officially licensed by the NFL and Wilson, this football koozie comes with your favorite NFL team logo. Authentic pigskin with laces look and feel is a really nice touch. There's also an inner foam lining that keeps your beverage cold. Looks like top quality to me! (Don't need leather, but want the football koozie look? Here's one, and here's another.)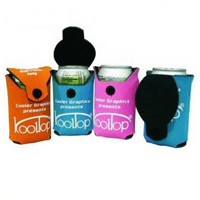 MY TAKE: These collapsible koozies have a built-in "lid" for your canned beverages! The lid stays closed with Velcro. (Great for keeping bugs out.) Made of high-density open cell scuba foam. Compared to all the other collapsible koozies that are available, I like these the best for my canned beverages.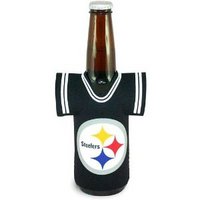 MY TAKE: These are a favorite among sports fans. If you're loyal to a particular team, this is a great way to show it on your drink koozie. They're soft and foldable. One word of warning: it's easy for your bottle to slip out the bottom of football jersey koozies — because they don't have a built-in bottom. So, if you don't grab it just right, the bottle is likely to slip out of the koozie entirely — right through the open bottom! Your best bet is to always hold onto the neck of the bottle at all times, but that's just not natural for me. (Here's a jersey koozie for cans.)
All-terrain beverage holster for your belt
MY TAKE: I love the ability to be hands-free! This one hooks onto your belt. It only has minor koozie properties — so your drink won't stay cold for long. But hey, if you're a fast drinker, this one ranks high in terms of convenience! This type of koozie works for both cans and bottles, and adjusts to fit many different belt widths. Here's another drink belt holster made just for bottles — again, what it lacks in the koozie department it makes up for in style.
MY TAKE: Do Mardi Gras in style this year! This can koozie is covered with colorful glass beads in traditional Mardi Gras colors (green, gold and purple). Plus, it's got a matching neck strap, so your hands will be free to catch beads — or otherwise enjoy the festivities.
One-of-a-Kind Can Koozies & Bottle Koozies
These are the most unique styled koozies for cans and bottles of various sizes:
MY TAKE: I'm not sure this one really classifies as a koozie, but I've wanted one of these for ages. I finally got a Yeti stainless can koozie — and I love it! It's a can insulator that keeps beverages icy cold 3 times longer than ordinary foam can holders. It has a sweat-proof design that won't leave water rings. It's unbreakable with a stainless steel exterior. This one insulates your hands from icy cold beverages. The stainless steel koozie one-up's the traditional koozie — by a mile. I better not extend my koozie collection to include more of these, or I'll be broke in no time!
MY TAKE: Simply toss this wrap into the freezer (or a cooler) for a few hours to "charge" it and it chills any room-temperature can or bottle in 5 to 10 minutes. And it keeps on chilling for up to 3 hours — with no mess from melting ice! It's unbreakable and reusable. Seems handy… and it's customizable too.
MY TAKE: Similar to the neoprene wetsuits for beer bottles, this one's larger — just for wine bottles. Looking for a koozie not for your wine bottle but for your wine glass? Here's a wine glass koozie — aka a woozie! Want to tote around 2 bottles of wine or champagne? This dual-chamber wine bottle koozie comes with a built-in handle at the top. It would make a great gift. Plus, it's collapsible for easy storage.
MY TAKE: The folks who brought us some of the best wine savers and bottle openers now have glass & bottle chillers that will keep your drinks cold! I haven't tried them yet, but I would guess them to be of very high quality — just like their other reputable products. (Check out the high reviews!) These work on wine bottles, and other glassware. My favorite is the Vacu Vin beer glass chiller.
One of the newest shapes in personalized koozies is the Solo Cup koozie. What makes it different from a coffee sleeve is the fact that this one has a bottom to it. Cup koozies are collapsible koozies that fit standard stadium cups. They're lightweight, thin, easy to pack and take wherever you go, and they keep your hands dry when the cup starts sweating. (I keep one on our motorcycle at all times — because we like to make mixed drinks when we get to our destination.) Of course, these cup koozies can be personalized as well — with or without the cup!
Clever Soda Bottle Koozies & Water Bottle Koozies
The latest trend in koozies is the water bottle koozie! These work well with bottled sports drinks and sodas, as well as water bottles themselves.
TIP: When it comes to water bottle koozies, one size does not fit all! So, it's important to find one that's made for the exact size of water/beer/soda bottle you intend to carry most. Some can even accommodate a few different bottle sizes.
Many soda & water bottle koozies come with a chrome carabiner clip — which makes it easy to attach the bottle holder to your lawn chair during transport, on a tote bag, to your belt loop, or just about anywhere else.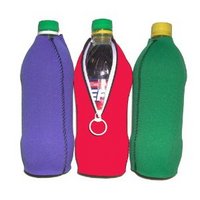 These are some of my favorite soda & water bottle koozies:
Where To Order Personalized Koozies
So, which personalized koozies did we ultimately decide to put our logo on, you ask?…
Well, none yet. (But it sure was fun exploring all of the options!!)
We were closest to ordering customized koozies with Brew Jeans. We had a few conversations with the guys there — but we never received our free samples and we were kinda left hanging. (They're a very small shop.)
I absolutely love the denim jeans koozies that they offer — complete with belt loops and a leather waistband tag.
We bought 2 of their denim bottle koozies at Puckett's here in Leiper's Fork, TN (near Nashville). Pucketts was one of the first companies to do a custom label with Brew Jeans. Their personalized koozies turned out really nice!
Here are some other companies that offer personalized koozies with custom logos and messages:
TIP: If you're a small business like us, chances are you only want to order a few. Therefore, the smallest quantity for the lowest priced koozie is listed for each. Of course, the more personalized koozies you buy, the lower the price gets.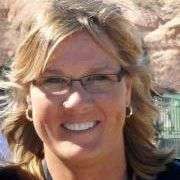 Always on the lookout for a good bargain, I consider myself a frugal person — but not cheap. And not afraid to spend money on the things that matter. I like to share good deals with others when I find them. One of my favorite ways to save money is to reuse items in ways other than their intended purpose — so I write a lot about outside-the-box ideas that most people wouldn't think of! When I'm not saving money or looking for good deals, you'll find me at the corner of Good News & Fun Times as publisher of The Fun Times Guide (32 fun & helpful websites).