This post may contain affiliate links. If you buy thru these links, we may earn a commission at no additional cost to you.
---
As a first time mom, I'm all about saving time (and my sanity) when it comes to grocery shopping!
I can certainly think of better uses of my time than going into Walmart only to realize I left my list on the kitchen counter.
We've all been there — loading a cart full of items, circling back to repeated isles, then forgetting the one thing that we really wanted.
If you're anything like me, I usually remember that item while standing in line waiting to check out — but I'm not willing to turn the cart around at that point.
Now don't get me wrong, I will step foot in a Walmart from time to time for a quick last-minute item. But when it comes to weekly grocery shopping, I definitely prefer to use Walmart's online grocery pick up service.
Why I Like Using Walmart Curbside Pick Up For Groceries
I can order fresh groceries online with same-day pick up and never have to get out of my car.
I can add items into my virtual cart as I think of them — so I never forget any single item.
A Walmart associate will find each of my items in the store — so I don't have to go aisle by aisle searching high and low for things.
A Walmart associate will load everything into the back of my SUV as soon as I arrive.
Walmart will even capture additional savings for me and give me money back if there was a cheaper price found somewhere else. (Yep, Walmart does this for FREE!)
How Walmart Grocery Pick Up Works
#1 – First, see if Walmart curbside pickup is available in your area.
Enter your zip code on the Walmart grocery pick up website.
#2 – Download the Walmart Grocery app and set up an account:
#3 – Choose your store, reserve your time (pick a 1 hour window), then browse the Walmart Grocery assortment online and add your items to your virtual cart. (You can specify if you want to allow substitutes or not.)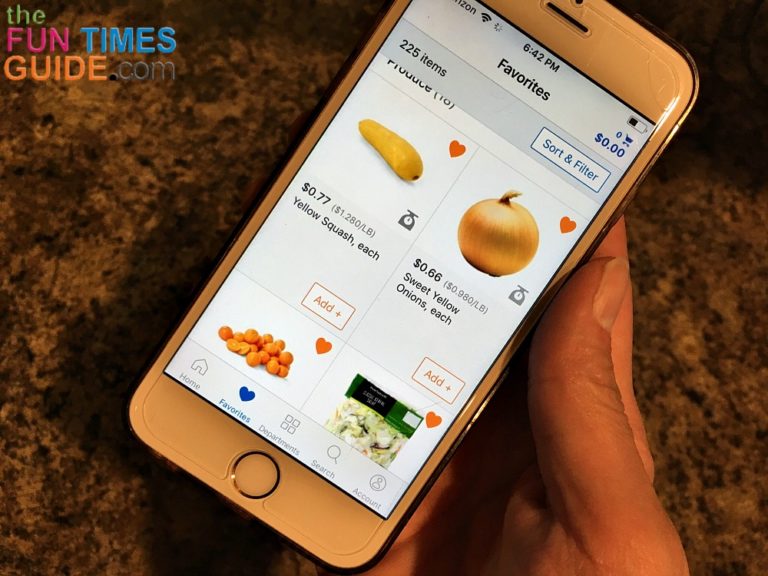 #4 – Check out and pay with a credit card. (The Walmart Grocery app will store your payment info with your account to make future ordering a breeze.)
#5 – Your order is filled by a local Walmart associate, and then the app lets you know when your order is ready.
#6 – When you're ready to pick up your order at Walmart curbside, check-in using the Walmart Grocery app. (The app then calculates your estimated time of arrival to the Walmart associates.)
#7 – Arrive at your Walmart grocery pick up location, and pull into a reserved parking space for Walmart curbside pickup. (You can specify the color of your vehicle when you set up your account.)
#8 – An associate usually arrives within minutes with your complete order and loads it into your car.
#9 – Sign off on your order, and you'll receive your receipt via email.
Next, is where it gets really fun!…
Use Walmart's Savings Catcher To Save More Money
Download the Walmart app (separate from the Walmart Grocery app), set up an account, copy & paste the TC# from your email receipt into the Savings Catcher.
The Walmart app's Savings Catcher is a price matching tool.
It will scan prices from other stores in your area for the same items you just bought at Walmart.
If it finds a lower price than you paid, Walmart will refund the difference into the Savings Catcher on your Walmart app. The money captured there be turned into an e-gift card at any time!
The Bottom Line…
I have saved so much time and money using Walmart grocery pick up. It truly is an awesome service!
The Walmart Savings Catcher is icing on the cake — because I know I'm getting the lowest possible price in one-stop shopping. Over time, I'm accumulating money and will cash it in on free groceries at Walmart one day.
The Walmart curbside pickup associates are always friendly and some of them even remember to bring treats for the dogs!
NOTE: While there is no Walmart grocery pickup fee, there is a $30 minimum required to use Walmart curbside pickup.
Can You Include Non-Grocery Items Too?
Yes. You can put things like batteries, dog food, RV toilet paper, etc. into your online shopping cart — basically almost anything they sell in the store.
However, when I searched "bicycle," it would only show me "bicycle accessories" — so I couldn't purchase a bicycle this way, for example.
I think the Walmart grocery pick up service is limited to general items that will fit in a shopping cart. I've added infant gas drops and items from non-grocery aisles into my cart before without any issues.
RELATED: Buying Groceries Online Saves Money & Reduces Your Carbon Footprint!
I'm a first-time mom. I work from home and write — mostly about my outdoor adventures, DIY projects, newly discovered products, and helpful tips as a first-time mom. I also like to share details about the alternative choices I'm exploring, as I enjoy this journey called motherhood. My family includes a toddler, 2 stepchildren, 1 dog, 1 cat, and a wonderful husband. My pre-pregnancy life was full of freedom and adventure, so I have a fresh new perspective when it comes to walking away from a career to become a full time stay at home Mama.