This post may contain affiliate links. If you buy thru these links, we may earn a commission at no additional cost to you.
---
It's the time of the year that everyone is hitting the road (or the airlines) for summer travel. If there's one thing I've learned how to do is travel on a budget.
You might think you can't afford a trip this year, but don't rule it out.
My best advice for taking a vacation on a budget is simple — plan ahead!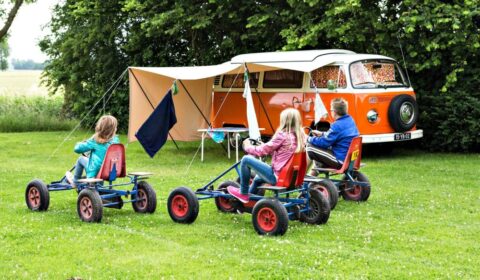 In the past, I've been guilty of having the mentality of, "Well, I'm on vacation so I can splurge on… [insert expensive dinners out and data charges on my smartphone that are through the roof]" — only to be left with a below zero balance in my bank account.
Trust me, you can render yourself unable to take another vacation for years if you don't look into saving money when you travel on a budget!
Following are 5 of my favorite travel ideas to help you plan a great vacation on a budget. See how to save money when it comes to:
Finding accommodations
Buying airline tickets
Dining out
Exchanging currency
Using your smartphone
#1 – Look Beyond The Traditional Hotel
Need a place to sleep? You could use a traditional hotel service — but why do that when Airbnb is often cheaper? It's a cheap travel alternative to staying in (and paying for) a hotel.
Or, if you want a unique camping experience, try the Camp In My Garden app. It's the first online garden camping community in the world that's been called the Airbnb of camping. You can advertise your own garden as a campsite and/or book accommodations in other members' gardens. It's a fun… cheap way to travel on a budget!
Other online platforms that help you find cheap accommodations online:
I found these frequently asked questions about the camping community super helpful.
#2 – Find Ultra-Cheap Airline Tickets With Skiplagged
When an airline puts together its flight schedule, there are often layovers for the passengers.
This is where Skiplagged comes in. It exploits weaknesses in airline scheduling and provides you with a cheap travel alternative to paying full-fare.
Skiplagged exposes secrets of the airline industry by finding airfares not found anywhere else that can easily save you up to 80%.
For example, you use Skiplagged to find "hidden city" fares and book a flight beyond your intended destination. Then, when you stop, and have a layover at your destination, you "skip out" on the rest of your flight.
This is perfectly legal and the savings can be significant when you want to vacation on a budget!
Some things to be aware of when using Skiplagged:
Don't check your bags. If you check bags, they'll end up at the final destination. Carry-ons are fine, but get there a bit early to ensure cabin space.
Bring your passport for international flights (even if you're not going all the way to the final destination). Some carriers require a passport to board the plane.
You may need a visa for international flights. This depends on the country that's the final destination. In some cases, all you need is a passport — but you may also need a visa for some countries.
Don't associate a frequent flyer account with this trip. If you do, the airline might invalidate any miles you've accrued with them.
Some airlines may require proof of a return ticket. If this happens to you, just buy a regular return ticket, and then cancel it within 24 hours of purchase.
Your itinerary may change. This rarely happens (only 2% of the time) — it's usually in times of irregular operations, such as bad weather at the discretion of the airline.
You can usually save more money using Skiplagged than if you had booked your flight in the traditional manner.
The only real downside in my opinion is you can't check your bags — because they will be sent to the final destination after you've gotten off the plane.
Did you know there are good (and bad) days to purchase airline tickets?
#3 – Bring Your Own Food
You can save a lot of money by packing your own food when you travel.
If you do this, consider taking frozen meals (in a cooler) or dehydrated meals with you that require little or no preparation. Lasagna, nuts, beef jerky, dried fruit, and canned soups make great travel foods. Your best bet is food that can be eaten without having to be heated or prepared.
Some great meal planning resources when you're traveling on a budget:
#4 – Don't Exchange Money At The Airport
If you're flying out of the country, don't change your money at the airport. Exchange rates are usually terrible there!
Exchange booths at the airport are placed there for a reason. They know that you're desperate for local currency, so they charge a premium.
But if you plan ahead, you can almost always get pretty close to market rates.
Instead of exchanging currency at the airport, here are 2 alternatives:
Go to your bank or credit union – Many banks offer currency exchange to their customers. You should be able to order currency in advance at a branch location (by phone or online) for pickup at a branch.
Order cash through a currency converter – A number of websites sell foreign currency and deliver it to your home. Exchange rates at an airport are less favorable, and the delivery charges will further eat into your funds.
These are the best (and worst) ways to exchange currency when you're traveling abroad.
#5 – Only Use Your Smartphone At A WiFi Hot Spot
I don't know about you, but I'm the worst when it comes to finding WiFi hot spots. I constantly default to using my phone's data because of pure laziness — yes, I admit that.
When you plan a vacation on a budget, be mindful of phone data expenditures. Texting and calling can quickly add up (especially if you're calling abroad), so turn off cellular data whenever possible.
FaceTime audio, Skype calling, WhatsApp and Facebook Messenger are a few great ways to avoid costly phone charges.
Using public WiFi comes with risks, so follow these tips to protect your data.
Regardless of where you go, you'll spend money. But, you don't have to spend an arm and a leg to have a good time. And cheap travel doesn't mean boring travel either!
The bottom line: Stop, think, and plan out your vacation in advance — you'll always save more money than if you just "wing it". Take the time to make smart travel plans, think outside the box, and stick to a budget.
I'm a health nut, a frugal mom, a dog lover, a DIYer, and a gadget girl. Personally, as a post-divorce, working single mom on a budget I have a lot of experiences that I enjoy sharing so others can learn from the things I wish I knew earlier! Professionally, I've worked full-time in a variety of marketing, sales, and editing jobs. You can always find me at the corner of Good News & Fun Times as Managing Editor at The Fun Times Guide (32 fun & helpful websites).