This post may contain affiliate links. If you buy thru these links, we may earn a commission at no additional cost to you.
---
Are you starting to plan back to school outfits?
Don't want to buy cookie-cutter clothes like everyone else is wearing? And don't want to spend a fortune?
A thrift store is a great resource for finding trendy and eye-catching school clothes while saving money at the same time — you just need to know the secrets of thrift store treasure hunting!
Here are 7 insider tips for back to school clothes shopping at thrift stores…
7 Back To School Thrift Store Shopping Tips
Ready to hunt for some undiscovered treasures in thrift stores?
These tips will make back to school clothes shopping FUN again!
#1 – Look for oversized leather bags to use as book bags.
Retro looking bags are great for school.
Long straps that can be worn across the body are best. Cross body bags enable you to use your hands for other things.
Traditional colors like brown and black will go with just about any outfit.
Don't be put off by a little wear and tear. A quick cleaning with spray furniture polish (like Pledge) will make even old leather look brand new.  (This applies to leather shoes too.)
#2 – Stretch lace is a must-buy item from a thrift store.
From lacy scarves to lace cuffs on a blouse, if you find an item with stretch lace, make sure you scoop it up.
Stretch lace cuffs look fabulous poking out of the top of a pair of boots, under a pair of knee-length leggings, or even worn at the elbow poking out of sweater sleeves.
Can't find any items with lace on 'em? Then look for pieces of lace in thrift stores and sew it onto various garments yourself!
#3 – Shop the racks in various sizes & departments, instead of sticking with the usual ones.
For example, instead of focusing on the children's section, opt for the extra small sizes in the adult's section. The fashions will be far trendier and you might even come across a vintage piece or two!
College students should peek at the selection in both the men's department and the women's department. Many items (sweaters, hoodies, t-shirts, turtlenecks, blazers, etc.) are not gender specific and you may score a nice, unexpected find.
Don't be afraid to shop outside of your normal size range either. Items in larger sizes may have shrunk so much that they would fit a smaller sized person perfectly. Likewise, some items just run big — so peeking through the smaller sizes, you just might find something that fits.
Finally, I can't count the number of times I've found items inadvertently placed in the wrong size section. Now that's what I call a hidden treasure!
#4 – You can never go wrong by stocking up on bargain-priced wardrobe staples.
For girls, scoop up all the skirts, tank tops, and leggings you find.
A pair of leggings worn under a thrift store skirt with a crisp white blouse is a fabulous back to school look.
Knot the blouse at the waist, add a pair of flat shoes or chunky boots, and you have a look that is versatile and comfortable.
For boys, it's jeans, polo shirts, and sweaters.
You can make a variety of looks using those staples — from preppy to sporty to dressy.
#5 – Create your own trendy pins and necklaces from items found in the fashion jewelry section. 
How? Simply attach traditional brooch pins to the back of clip-on earrings.
Think oversized rhinestone starbursts and gigantic flower earrings. Vintage looking pins can also be purchased at the dollar store.
A vintage-inspired pin can be worn to hold a shoulder scarf in place, adorn a floppy hat, or accent a basic white blouse.
Similarly, large pins and large earrings can be secured to long chains and worn as pendants on a necklace.
#6 – Look online for fun ways to wear your thrift store finds.
Start by searching on sites like Pinterest and Polyvore for terms like "thrift store fashion" and you will find a huge selection of fashion options that you can try to replicate yourself.
Many include step-by-step tutorials to refashion garments yourself.
Here are some great examples:
#7 – Shop early, shop often, and shop off-season.
To find the best deals you'll want to go when few people are thinking about back to school clothes shopping — like summertime! That way, you'll have the best selection to choose from. So go early… like June or July.
Patience is a virtue when it comes to thrift store shopping. If you really want the best deals and the hidden treasures, then spend your time hunting through all of the items on the racks rather than skimming through them. And your best bet is to return to the same store(s) repeatedly, checking for new items since the last time you visited.
Finally, think outside of the current season when you're shopping. Off-season items may be few and far between, but they'll stick out like a sore thumb if you're looking for 'em. And they'll be price to sell!
Okay, those are my top 7 ways to score trendy and eclectic back-to-school clothes at a thrift store.
For just a few dollars, you're able to support some local charities (that are associated with the thrift stores in your area) and create stylish outfits at the same time.
And who knows?… You might just find some brand name items at rock bottom prices!
Almost makes you excited for back to school clothes shopping season, right?
Even More Back To School Clothes Shopping Tips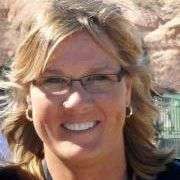 Always on the lookout for a good bargain, I consider myself a frugal person — but not cheap. And not afraid to spend money on the things that matter. I like to share good deals with others when I find them. One of my favorite ways to save money is to reuse items in ways other than their intended purpose — so I write a lot about outside-the-box ideas that most people wouldn't think of! When I'm not saving money or looking for good deals, you'll find me at the corner of Good News & Fun Times as publisher of The Fun Times Guide (32 fun & helpful websites).