This post may contain affiliate links. If you buy thru these links, we may earn a commission at no additional cost to you.
---
I wrote about this 2 years ago… my frustration with the way that some department stores seem to be using deceptive marketing practices to lure shoppers in, and then they fake us out with "sales prices" that aren't really good deals at all. (And we're talking major retailers here.)
Well now, I've finally found some facts to support what I've been saying…
In the January 2008 issue of Shop Smart magazine (published by the folks at Consumer Reports) they wrote this under the headline, "How Sales Can Fake You Out":
The next time you find yourself salivating over a 60% off sale, don't scramble over to the store so fast. Those deals may not be as good as they appear. As savvy shoppers know, retailers do all kinds of things to make it seem as if you're getting a steal."
It gets better…
The gist of the article was twofold:
#1 The fact that some stores use the manufacturer's suggested retail price on their products. While others do not.
In fact, when a store indicates an item's "original" price, in a sales flier, it might actually be higher than the manufacturer's suggested retail price. Why? So they can make it seem like you're getting a great deal when they mark an item down to a lower price (which is often the manufacturer's suggested retail price to begin with!) and call it their sale price.
#2 The fact that some stores run sales so frequently that the "sales price" is really the item's regular price (…at that particular store).
Also from the article:
Though that may be deceiving — and even illegal — stores often get away with it. The reasons: First, with so many sales going on, it's tough for consumers to tease out the not-so-special deals. Second… stores can get away with these practices because 'fake' sales often go unnoticed and unchallenged by authorities."
The stores mentioned in Shop Smart magazine as using these types of sales tactics were: Kohl's, Macy's, and Sears. (Other stores do it too, I'm sure.)
Check out "The Real Deal"… examples from actual sale ads that were included in the Shop Smart article: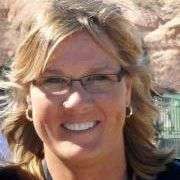 Always on the lookout for a good bargain, I consider myself a frugal person — but not cheap. And not afraid to spend money on the things that matter. I like to share good deals with others when I find them. One of my favorite ways to save money is to reuse items in ways other than their intended purpose — so I write a lot about outside-the-box ideas that most people wouldn't think of! When I'm not saving money or looking for good deals, you'll find me at the corner of Good News & Fun Times as publisher of The Fun Times Guide (32 fun & helpful websites).