This post may contain affiliate links. If you buy thru these links, we may earn a commission at no additional cost to you.
---
If you're like me, then you're already making an effort to save money on groceries by:
These are all great ideas. But there are still a few other clever ways to trim your grocery bill.
Here's how to save money on groceries — 5 things that you probably haven't tried yet.
#1 – Stock up on post-holiday sales.
If you have the freezer space, shop for meats right after holidays. Turkeys after Thanksgiving, hams after Easter and Christmas, and corned beef after St. Patrick's Day — you can find these for as little as a quarter of the regular price.
Wrap the meats well and store in the freezer for later.
Watch for sales on baking supplies around the Thanksgiving and Christmas holidays. You're likely to see the lowest prices of the year on items like flour, sugar, brown sugar, baking chocolate, and cookie & cake decorating products.
Store the items in air-tight containers to preserve flavors and protect from insects. And of course, you can enjoy seasonally packaged or flavored snacks, candy, and drinks well after the holidays — at as much as 90% off the original price!
#2 – Substitute homemade for convenience foods.
Flour, oil, eggs, and milk cost a fraction of the price of frozen waffles and pancakes. Frozen veggies and rice are much cheaper than pre-cooked stirfrys and skillet dinners too.
When you make items from scratch, cook extra and store them in the freezer for easy reheating and later convenience.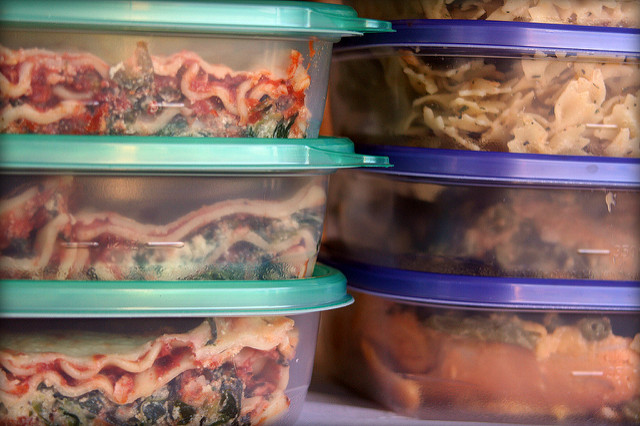 You'll know exactly what is in the foods you make yourself, and you'll avoid the multi-syllable additives and preservatives that make up convenience foods.
Another way to save money on groceries is to make your own mixes rather than purchasing brownie, cake, cookie, and baking mixes (like Bisquick). There are websites and cookbooks devoted to homemade mixes and dozens of recipes for each type of mix.
A few hours spent on a weekend cooking or mixing up dry ingredients will save money on groceries throughout the rest of the month.
#3 – Learn to can and preserve food.
While the idea of canning and preserving fresh food can seem intimidating, it's not that hard to get started and there are only a few canning supplies you need.
As home canning has regained popularity in recent years, it is easy to find helpful information (including videos) on the Internet. You will learn the canning process and how to have fresh-tasting, safe food throughout the year.
When fruits and vegetables are in peak season, purchase larger amounts and preserve them through freezing, drying or pickling — none of which requires canning equipment.
#4 – Try out ethnic markets.
Check out your local Hispanic, Indian, and Asian grocery stores to save money on groceries.
Ethnic grocery stores not only offer a variety of international ingredients, but they also sell basic produce and meat at very affordable prices. Source
You can often find the same meats and produce as at big box stores, but at better prices.
In addition, you will usually find much better prices on specialty ethnic items such as condiments and spices.
Multi-ethnic farmers markets and chains such as H Mart can supply the full supermarket experience with surprisingly great prices.
#5 – Experiment with bulk shopping.
You may have avoided warehouse clubs like Sam's or Costco because you don't have the space to store bulk purchases, or your family is not big enough to make bulk shopping practical.
Consider teaming up with friends or relatives and shop together, then split up bulk purchases. This way, you can also share the cost of the annual membership fees!
If storage is the main issue, keep an eye out for inexpensive storage cabinets, chest freezers, or old refrigerators that can stay on a back porch or in a garage to keep your extra food.
Canned goods and other non-perishables, paper products, and cleaning items can be stashed virtually anywhere — even in the smallest living spaces. 
TIPS | 13 Ways To Save Money on Groceries
I wouldn't try to implement all of these suggestions at once because it's easy to become overwhelmed and discouraged. Just experiment a little at a time over a period of a few months or a year to see how the savings add up.
And of course… never go the grocery store on an empty stomach!
Start Saving Money On Groceries Today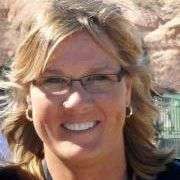 Always on the lookout for a good bargain, I consider myself a frugal person — but not cheap. And not afraid to spend money on the things that matter. I like to share good deals with others when I find them. One of my favorite ways to save money is to reuse items in ways other than their intended purpose — so I write a lot about outside-the-box ideas that most people wouldn't think of! When I'm not saving money or looking for good deals, you'll find me at the corner of Good News & Fun Times as publisher of The Fun Times Guide (32 fun & helpful websites).