---
Some articles on this site contain affiliate links. If you purchase through these links, we may earn a small commission at no additional cost to yourself.
---
I had an interesting conversation with the manufacturer of ChoiceDek and MoistureShield — which are two of the leading composite deck materials on the market today.
The manufacturer is Advanced Environmental Recycling Technologies (AERT).
The rep who answered my phone call got to play "20 Questions" with me. Fortunately, he was a good sport, and he was willing to tackle any question I sent his way — even when it wasn't specifically related to his product(s).
This guy definitely went above and beyond to be helpful to me in my decision to go with composite decking in our new log home, or not.
One interesting thing that I learned had to do with the differences between buying home improvement supplies at places like Home Depot and Lowe's, compared to buying from local distributors and the manufacturer's own list of suppliers.
Here's what I learned about buying at home improvement stores:
Cut To The Chase
In addition to all of the "relevant" questions I asked about ChoiceDek and MoistureShield decking products, I threw the guy a curve ball and asked:
Are products sold at stores like Home Depot and Lowe's different from products sold by suppliers or distributors?
This was actually a semi-relevant question, since one of AERT's products (ChoiceDek) is sold exclusively through Lowe's and the other (MoistureShield) is available through suppliers and distributors everywhere.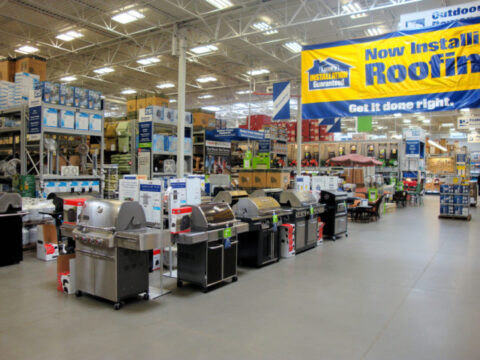 I told him that I hear so many people who've been involved with home improvements (either their own projects, or overseeing others') completely bashing stores like Home Depot and Lowe's on a regular basis. This mostly takes place online — in forums, chat rooms, and such.
The gist of what they're saying is: "Don't buy from [enter the name of your least favorite home improvement store here]… because they only carry the low-end versions of similar products sold elsewhere."
So I sat back and listened to how the AERT rep was going to handle this one!…
Contractors vs DIYers
To my surprise, he said he hears that a lot, too. Especially since he used to be a manager at a Home Depot.
He summarized his answer like this:
#1 – The Products Are The Same
No, the products aren't different in the stores vs through individual suppliers (take ChoiceDek and MoistureShield as an example). Same exact product, just slightly different patterns, colors, etc.
and…
#2 – Home Improvement Stores Are Mostly For DIY-ers
Stores like Home Depot and Lowe's are primarily geared toward do-it-yourselfers. So these are solid Fortune 500 companies who strive to excel in customer service for the DIY audience.
They don't really cater to contractors as much as the contractors might like them to.
On the other hand, suppliers give contractors the one-on-one attention they desire. As a result, they (the contractor) gets good, if not better, customer service from suppliers than they do from some of the stores.
I thought that was a fair answer.
I still think that some products sold at big box stores may be "less than premium quality" than the same products found elsewhere. I attribute this largely to the fact that places like Home Depot and Lowe's strive to be able to sell "exclusive" products in their stores.
That means they have to get the manufacturer to change something to be able to call it a different product than those found elsewhere. (This was confirmed by the AERT rep.)
Also, they can probably get some good price breaks from the manufacturers by cutting some corners on certain things — maybe only "decorative" things, but still.
Why I Shop At Home Improvement Stores
I have shopped at both Home Depot and Lowe's — for years.
And I will continue to shop at the home improvement stores — mostly because of their close proximity, convenience, low prices, knowledgeable sales reps, and the overall quality of their products. (I was just in one tonight.)
I actually flip-flop back & forth between which one is my favorite every few months or so. I'm currently on a Lowe's kick.
Always on the lookout for a good bargain, I consider myself a frugal person — but not cheap. And not afraid to spend money on the things that matter. I like to share good deals with others when I find them. One of my favorite ways to save money is to reuse items in ways other than their intended purpose — so I write a lot about outside-the-box ideas that most people wouldn't think of! When I'm not saving money or looking for good deals, you'll find me at the corner of Good News & Fun Times as publisher of The Fun Times Guide (32 fun & helpful websites).