This post may contain affiliate links. If you buy thru these links, we may earn a commission at no additional cost to you.
---
I've always used MSN Autos whenever I'm looking up new & used car prices, trade-in values, professional car reviews, and reviews from actual owners.
But today I learned something new.
MSN Autos now monitors gas prices all across the country!
See what I've learned about my 2 favorite cheap gas prices sites (MSN Autos and Gas Buddy), plus several other sites that help you find the cheapest gas where you live.
MSN Autos: Cheap Gas Prices
Just enter your zip code and see a list of gas stations in your neighborhood ranked in order of those with the lowest gas price at the top.
What makes MSN's local gas price tool better than the other gas sites?…
#1. Not only do you see the gas station names, addresses & phone numbers, along with their current price per gallon…
#2. You also get on the same page a map showing the actual location of each of those gas stations — in relation to where you live, and in relation to one another. It's helpful to have this visual.
#3. Plus, this gas price website is updated in a way unlike most others. Rather than relying on consumers to log into the website and enter the price they recently witnessed gas selling for at their local gas stations, this site relies solely on OPIS.
Check it out: MSN Auto Gas Prices
Gas Buddy: Cheap Gas Prices
I've talked about GasBuddy a few times before. It's another great way to find the lowest price for gas in your own neighborhood.
>Here's the site: Gas Buddy
Well, I decided to take a closer look at Gas Buddy and see what it's really all about and how they get their data.
Turns out, it's people like you & me who are simply inputting gas prices into the GasBuddy website.
The motivation?… Points!
The prizes?… Various raffle items (like $150 in free fuel), peer recognition, and good karma.
Interesting.
How To Play Along…
Say you happen to pass 1 to 5 gas stations each day (like on your way to/from work), and you take the time to enter those prices on the GasBuddy website each day (or every other day, once a week, whatever… it takes less than 1 minute), then you can actually build up some pretty serious points.
In fact, you can earn GasBuddy points in a variety of ways:
Post/Update A Gasoline Price
Vote In The Weekly Opinion Poll
Use The Tell-a-Friend Feature
Read a Recent News Item
Post a Message In The Message Forum
Plus, you get 100 points just for signing up!
It's all about building community AND maintaining a database of low-priced gasoline across the U.S.
As a member, you can help everyone find low priced gas prices. Next time you're out, make a note of the gas prices that you pass on your daily route and post them to the web site for everyone to see. By posting both the low and the high prices you see, consumers everywhere can visit [GasBuddy] to learn which stations to buy gas from and which stations to avoid.
One of the coolest things about Gas Buddy is how it is used to generate accurate and meaningful trends and statistics regarding drivers and their use of gasoline, as well as drivers' perceptions of various gas-related issues.
In fact, it's such a helpful tool, that the U.S. Department of Energy has chosen to use data obtained by GasBuddy to show various trends, stats, and usage by state. (For a quick glance, check out these average retail gas prices around the county.)
Other Ways To Find Cheap Gas
UPDATE:
Gas Buddy used to have message forums. After you chose your state, then your city, you'd see a forum filled with people from your area chatting about gas mileage, fuel economy, and gas prices.
There was no better way to get rapid responses from dozens of people in a matter of minutes!
The forums were also helpful when I had a question like:
"What's the difference between Sam's Club gas, Costco gas, and regular gas station gas?"
"What things affect your gas mileage the most?"
Now they have a GasBuddy mobile app for your phone!
Here are all the fun and simple things you can do to avoid paying high gas prices.
Did you know that you should never use a debit card to pay for gas at the pump?
Oh, and have you tried the MyGallons prepaid gas card yet?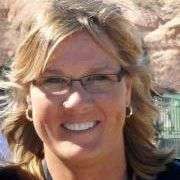 Always on the lookout for a good bargain, I consider myself a frugal person — but not cheap. And not afraid to spend money on the things that matter. I like to share good deals with others when I find them. One of my favorite ways to save money is to reuse items in ways other than their intended purpose — so I write a lot about outside-the-box ideas that most people wouldn't think of! When I'm not saving money or looking for good deals, you'll find me at the corner of Good News & Fun Times as publisher of The Fun Times Guide (32 fun & helpful websites).