This post may contain affiliate links. If you buy thru these links, we may earn a commission at no additional cost to you.
---
I am a big fan of buying in bulk, yet I do not own a membership to a shopping warehouse club.
Instead, I have found that if I keep a careful eye on sale, I can easily stock up on sale items at the grocery store and keep my pantry perpetually full.
A normal trip to the grocery store might mean 4 containers of sugar, especially during a buy one get one free sale.
It also might include 10 jars of spaghetti sauce and 6 boxes of frosted flakes.
With the exception of milk, and fresh produce, I only ever purchase food items when they are on sale. If the sale is very good, I will make additional trips to the grocery store during that sale week.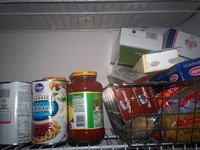 It is not uncommon to look in my pantry and find 30 jars of pasta sauce, a whole shelf of breakfast cereal, and 15 bottles of apple juice — among large multiples of many other items.
In addition, when it comes to purchasing meat, I shop at each store based on the time I know that items are being marked down. For example, at my local Kroger, meats are marked down early Monday morning. Another local grocery store marks down their meats on Wednesday afternoon. A glance in my full chest freezer will tell you that I seldom purchase meat that does not have a discount sticker on it.
I realize this may sound like a lot of work, but it's not. The key is to taking mental notes — or even written notes — about when each store marks down its meat, bakery, and dairy items.
You will also want to keep a price list notebook so that you will be able to recognize a great deal when you see it. When you find that good deal, do not be ashamed to purchase as many of those items as the store will let you carry away.
I have been a certified tightwad striving for financial freedom since I became pregnant with my first child — and I decided to find a way to stay home with him full-time. I enjoy sharing my personal experiences in my journey back to financial health and planning for a future — which will include sending 2 kids to college and early retirement.