A lot of people have been looking for ways to fold money.
This subject has always intrigued me too.
The closest I ever came to folding money into creative shapes was in high school when we used to fold dollar bills into the shape of triangles (we didn't know how to fold paper footballs). Then we would try to flip our dollar triangles through fake field goals.
Anyway, here are some fun ways to turn your dollar bills into fun and creative shapes…
How To Fold Dollar Bills
#1  Here's my latest find:
How To Make Folded Money Faces
(…more here.)
#2  And an old favorite:
Creative Ways To Fold Money
#3  Now, just for fun, check out these:
Fun ways to put your face on a dollar bill or a record album!
Fun Ways To Fold Money, In General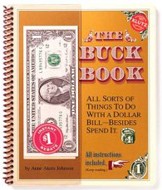 Looking for a tri-fold money clip or hinged folding money clips?
How To Fold Money Into Shapes